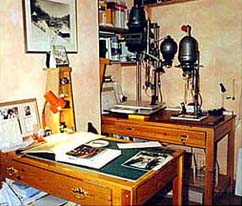 We still, however, undertake expert photographic copying and restoration, portraiture, wedding & special occasion photography, advertising & publicity work, handcolouring, mounting, framing and much more!

Not forgetting our unique collection of original handmade images of Chester, Liverpool, people and many other subjects. Portfolios and exhibition work are a speciality.

Contact us to discuss your requirements- we will be happy to give you a free, no-ties quotation. Examples of all aspects of our work are always available for inspection at our Chester studio.


Thinking of putting your company on the Internet?
You're reading this, so you know it works! As more and more businesses and homes go online, a website should now be considered a vital part of your business presence. We are happy to offer no-nonsense advice on all aspects of getting online and can assist with designing, producing and maintaining your web pages.

We can also run informal and entertaining courses for internet beginners: how to navigate the web, newsgroups and IRC, use search engines efficiently, send and receive email and much more...
Here are some recent projects: Hoole All Saints School, Dave Greenald's World Upside Down and, winner of the Encyclopaedia Britannica Internet Guide Award, Chester: A Virtual Stroll Around the Walls


Bought a Mac?
Sensible you. The Apple Macintosh (iMac, MacBook, etc) range of computers remain the most advanced and user-friendly in the world but, if you're a new user- or have wisely made the change from Windows- you may still get confused. Even experienced users may need to come up to speed on the wonderful Mac operating system, OSX. We're pleased, therefore, to offer help and advice on all things Apple: basic and advanced tuition, tuning your system to run at its best, troubleshooting, buying advice and much more. A friendly and jargon-free service!

Of course, we offer no-strings help with all things photographic too- if you're having problems or require a special or unusual service, don't hesitate to get in touch.